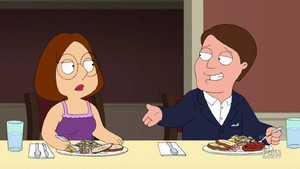 Ben Fishman was the son of Ross and Pam Fishman. He went to a private school in Quahog.
In "Into Fat Air", he competed against the Griffins with his family to climb to the top of Mount Everest. As the Griffins walked through the snowstorm, they found him frozen. Due to their hunger, the Griffins ate him. Peter then revealed to the Fishmans about their son's death as they leave in a helicopter.
Ad blocker interference detected!
Wikia is a free-to-use site that makes money from advertising. We have a modified experience for viewers using ad blockers

Wikia is not accessible if you've made further modifications. Remove the custom ad blocker rule(s) and the page will load as expected.