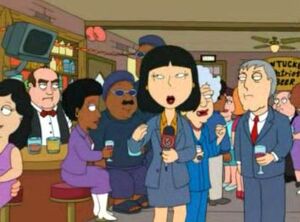 Bernice was the girlfriend of Cleveland Brown briefly after his breakup with Loretta. She appears in "Believe It or Not, Joe's Walking on Air". Strangely enough, she also appears to be in Stewie Griffin: The Untold Story in the end segment with Cleveland, although she wears a purple jacket instead. She also appeared in "You May Now Kiss the...Uh...Guy Who Receives" in the wedding sitting next to her then-boyfriend and has a crowd-scene cameo in "Ratings Guy".
Bernice is voiced by Wendy Raquel Robinson.
Ad blocker interference detected!
Wikia is a free-to-use site that makes money from advertising. We have a modified experience for viewers using ad blockers

Wikia is not accessible if you've made further modifications. Remove the custom ad blocker rule(s) and the page will load as expected.