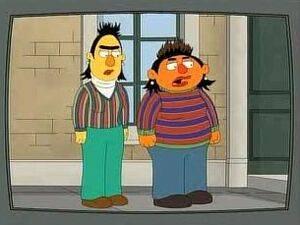 Bernie & Gert are two characters on the American version of Jolly Farm Revue which began production in "Go, Stewie, Go!". When Moody Green Garbage Creature growls that he's grouchy, prompting an admonishment from Karina Smirnoff that Bernie and Gert would "kick his butt".
For Revue, lampooning the rumors that Bert & Ernie are homosexuals[1], they are genderbent versions of them, and are depicted as lesbians.
Ad blocker interference detected!
Wikia is a free-to-use site that makes money from advertising. We have a modified experience for viewers using ad blockers

Wikia is not accessible if you've made further modifications. Remove the custom ad blocker rule(s) and the page will load as expected.