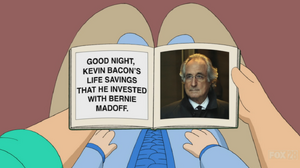 Bernard Lawrence "Bernie" Madoff (born April 29, 1938) is a former American businessman, stockbroker, investment advisor, and financier. He is the former non-executive chairman of the NASDAQ stock market, and the admitted operator of a Ponzi scheme that is considered to be the largest financial fraud in U.S. history.
In the "Family Guy Viewer Mail No. 2" segment "Point of Stewie", Lois reads Stewie a bedtime story Goodnight Town from "Footloose" in which a page says goodnight to Kevin Bacon's life savings that were invested with Bernie Madoff.
Ad blocker interference detected!
Wikia is a free-to-use site that makes money from advertising. We have a modified experience for viewers using ad blockers

Wikia is not accessible if you've made further modifications. Remove the custom ad blocker rule(s) and the page will load as expected.