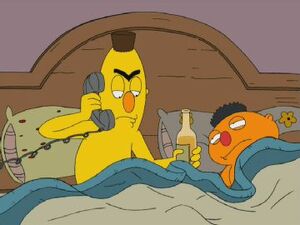 Bert & Ernie are Muppets on the children's TV show Sesame Street. They appear in numerous skits together as one of the centerpieces of the show and as the humor for both kids and adults.
In "I Never Met the Dead Man", Stewie plays with a toy phone, threating Ernie and other Sesame Street characters.
They appear in "Mind Over Murder" as gay lovers, a reference to the urban legend that they were a homosexual couple.[1] It is part of a parody called Homicide: Life on Sesame Street. Bert, a gruff, foul-mouthed, hard-drinking detective is shown naked in the same bed with Ernie. He answers the phone and says that he needs to go to a murder. After Bert takes a drink from a bottle of what is presumed to be alcohol, Ernie says that he wishes Bert would not drink and shout so much. Bert then shouts at Ernie for eating cookies in the bed.
In "Ready, Willing, and Disabled", Peter refers to Valerie Bertinelli as "Valerie Bertandernie."
The buttons on Stewie's phone in "Model Misbehavior" are Big Bird, Grover, Ernie, and The Count.
In "Peterotica", Barbara Pewterschmidt tries to get Ted Turner to take a bath with his Muppets toys including a figure of Ernie. However, he knocks the figure away noting that Ernie doesn't like the other monster toys.
In "Not All Dogs Go To Heaven", the bedroom of Adam West and Rob Lowe is a replica of Bert and Ernie's bedroom on Sesame Street.
They are genderbent as Bernie & Gert for the American version of Jolly Farm Revue in "Go, Stewie, Go!".
In "Back to the Pilot" Stewie has dolls of Bert & Ernie. When Brian sees that he has the Ernie doll tucked under a box Stewie says that Ernie is getting a cat-scan.
Bert is voiced by Wally Wingert.
External links