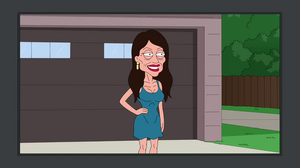 Bethenny Frankel (born November 4, 1970) is an American reality television personality, former talk show host, author, and an entrepreneur. The author of four self-help books, and the host of the talk show, Bethenny, Frankel has appeared on The Apprentice: Martha Stewart, The Real Housewives of New York City and was the subject of the reality television series Bethenny Ever After.
In "Meg Stinks!", Chris and Stewie watch Extreme Makeover: Bethenny Frankel Edition in which the crowd shouts for the bus to be put back when Bethenny is shown.
Stewie compares Dr. Cecil Pritchfield's office to Bethany's therapist on The Housewives of New Your City n "Send in Stewie, Please", and notes that he hates her because she looks like an Eastern European wooden doll, although he backtracks a bit in admiring her business sense. He also compares his anxiety to Bethenny Frankel on her period and questions why he keeps bringing her up.