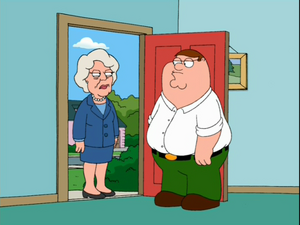 Betty Marion White (born January 17, 1922), better known as Betty White, is an actress and television personality, most famous for her starring role in the NBC sitcom, The Golden Girls. She has won five Emmy awards and was married three times, most notably to Password host, Allen Ludden, from 1963 until his death in 1981. As of 2010, she has a starring role as Elka Ostrovsky in the TV Land sitcom, Hot in Cleveland.
She appears in "If I'm Dyin', I'm Lyin'" as a celebrity square on Hollywood Squares.
In "Peterotica", she does an audiobook of one of Peter Griffin's erotic books, providing her own voice. She is depicted on the front cover of each copy. She later appears on the Griffin doorstep, upset with Peter.
She was mentioned by Chris in "Dog Gone", saying that she was in the Animal Rights group PETA, to which Peter responds that his statement doesn't make sense because he thinks everyone's referring to Peter.