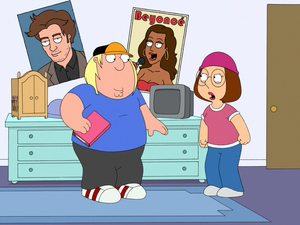 Beyoncé Giselle Knowles (born September 4, 1981) is an American singer, songwriter, record producer and actress. She rose to fame in the 1990s in the R&B group, Destiny's Child, one of the worlds best selling girl groups of all time.
She appears beginning in "Brian Griffin's House of Payne" as a poster on Meg's wall. The DVD commentary explains that they finally updated the posters in her room with a Beyoncé poster along with a Robert Pattinson poster.
Setting up a cutaway gag over Chris holding in his aggression in "Bookie of the Year", Peter recalls an incident during which Beyoncé's sister Solange attacked Jay Z in an elevator.
Stewie insists that his sore back is not from trying to dance like Beyoncé in "The Dating Game".
Ad blocker interference detected!
Wikia is a free-to-use site that makes money from advertising. We have a modified experience for viewers using ad blockers

Wikia is not accessible if you've made further modifications. Remove the custom ad blocker rule(s) and the page will load as expected.