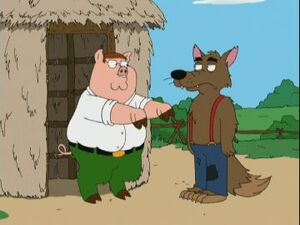 The Big Bad Wolf is a term used to describe a fictional wolf who appears in several precautionary folkloric stories, including some of Aesop's Fables and Grimm's Fairy Tales.
He appears in the episode "Padre de Familia" where he attempts to blow down Peter Griffin's cousin Peter the Pig's straw house. The wolf stops after Pig claims that he defecated in there and that if he blows down the house, the smell will spread throughout the forest.
Brian performs in the role of The Big Bad Wolf in the story of Little Red Riding Hood in "Grimm Job".
Ad blocker interference detected!
Wikia is a free-to-use site that makes money from advertising. We have a modified experience for viewers using ad blockers

Wikia is not accessible if you've made further modifications. Remove the custom ad blocker rule(s) and the page will load as expected.