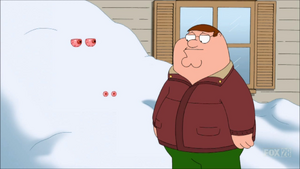 Bill is Peter Griffin's albino neighbor.
When a snowstorm hits Quahog in "Grumpy Old Man", Peter notes that everything looks beautiful out but he hopes his weird albino neighbor from up the street doesn't show up as he creeps him out. Bill appears framed by a snowbank as he is taking his pet rabbit out to the vet.
Ad blocker interference detected!
Wikia is a free-to-use site that makes money from advertising. We have a modified experience for viewers using ad blockers

Wikia is not accessible if you've made further modifications. Remove the custom ad blocker rule(s) and the page will load as expected.