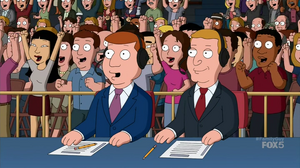 Bill is an announcer at the New Haven Coliseum during a wrestling match between "Heavy Flo" and "Her Majesty's Secret Cervix" in "Peter's Sister".
Bill notes that between the pair, they have eight meters of ass crack before Flo wins the match, only to be confronted by her brother Peter posing as "Maxi Patty" to challenge her to a match due to her bullying.
Ad blocker interference detected!
Wikia is a free-to-use site that makes money from advertising. We have a modified experience for viewers using ad blockers

Wikia is not accessible if you've made further modifications. Remove the custom ad blocker rule(s) and the page will load as expected.