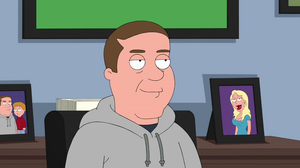 William Stephen "Bill" Belichick (born April 16, 1952) is an American football head coach for the New England Patriots of the National Football League.
After the guys get sick of the Patriots losing in "3 Acts of God", they seek out God to find out why he has disfavored the team. God reveals that he is upset after giving the Patriots three Super Bowl victories, Bill refuses to smile. The guys see Bill at Gillette Stadium but fail to make him smile until Peter's description of Joe's disability treatments cause Bill to finally smile as God agrees to leave the Patriots alone.
Ad blocker interference detected!
Wikia is a free-to-use site that makes money from advertising. We have a modified experience for viewers using ad blockers

Wikia is not accessible if you've made further modifications. Remove the custom ad blocker rule(s) and the page will load as expected.