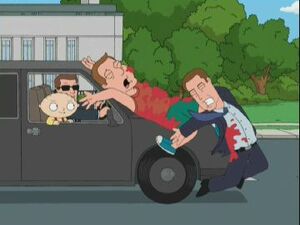 William Harrison "Bill" Frist, Sr. (born February 22, 1952) is an American physician, businessman, and politician. Frist served two terms as a United States Senator representing Tennessee where he became the Republican Majority Leader from 2003 until his retirement in 2007.
He appears in the DVD-exclusive musical number "I've Got a Little List" from "Lois Kills Stewie".
Ad blocker interference detected!
Wikia is a free-to-use site that makes money from advertising. We have a modified experience for viewers using ad blockers

Wikia is not accessible if you've made further modifications. Remove the custom ad blocker rule(s) and the page will load as expected.