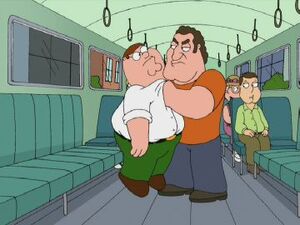 William Scott "Bill" Goldberg, better known by his ring name Bill Goldberg (or simply Goldberg), is an American professional wrestler and actor best known for his time in both World Championship Wrestling and World Wrestling Entertainment. Goldberg is recognized by WWE as a two-time World Heavyweight Champion, having held the Big Gold Belt in both WCW and WWE, and was the first wrestler in history to do so. Before he was a professional wrestler, Goldberg was a college and NFL football player.
He provided the voice for the angry bus passenger in the "No Bones About It" segment of "Family Guy Viewer Mail No. 1".
Ad blocker interference detected!
Wikia is a free-to-use site that makes money from advertising. We have a modified experience for viewers using ad blockers

Wikia is not accessible if you've made further modifications. Remove the custom ad blocker rule(s) and the page will load as expected.