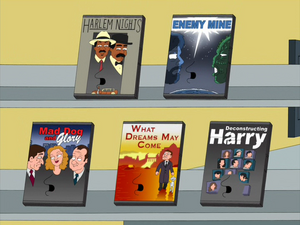 William James "Bill" Murray (born September 21, 1950) is an American actor and comedian. He first gained national exposure on Saturday Night Live, and went on to star in a number of critically and commercially successful comedic films including Caddyshack (1980), Ghostbusters (1984), and Groundhog Day (1993).
Murray appears on the DVD cover of Mad Dog and Glory in "Brian's Got a Brand New Bag".
Ad blocker interference detected!
Wikia is a free-to-use site that makes money from advertising. We have a modified experience for viewers using ad blockers

Wikia is not accessible if you've made further modifications. Remove the custom ad blocker rule(s) and the page will load as expected.