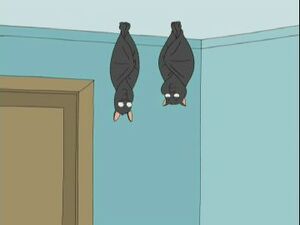 Brian and Tim are two bats that hang out on the ceiling of the Griffin Home.
In "Mother Tucker", Thelma Griffin refers to needing to have sex with Tom Tucker to 'Get the bats out of my plumbing.' The scene cuts to two bats on the ceiling named Bill and Tim who decide to write their story before flying out the window.
Ad blocker interference detected!
Wikia is a free-to-use site that makes money from advertising. We have a modified experience for viewers using ad blockers

Wikia is not accessible if you've made further modifications. Remove the custom ad blocker rule(s) and the page will load as expected.