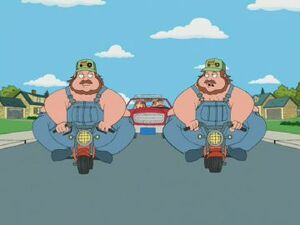 Billy Leon McCrary December 7, 1946 - July 14, 1979) and Benny Loyd McCrary (December 7, 1946 - March 26, 2001), known professionally by their show names as the McGuire twins, were listed in the Guinness Book of World Records as the "World's Heaviest Twins". A Guinness photo depicts the twins riding their Honda motorcycles.
They are seen in "Blind Ambition", slowing the Griffins down.
Ad blocker interference detected!
Wikia is a free-to-use site that makes money from advertising. We have a modified experience for viewers using ad blockers

Wikia is not accessible if you've made further modifications. Remove the custom ad blocker rule(s) and the page will load as expected.