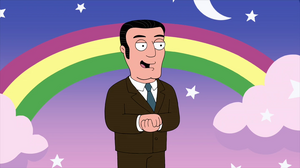 Blake Walker is the head of Piedmont Publishing who agrees to publish Joe's book in "The Book of Joe".
To avoid trouble with the police department, Joe writes the book under the pen name of David Chicago. When Joe's attitude and appearance frightens the children who come to his book reading at Playdate Books, Peter steps in and is a hit. Blake talks Joe into letting Peter take over as the face of the author, but Peter's antics soon spoil the message that Joe was trying to send about his character, a handicapped squirrel. Peter continues with backing from Blake until Joe gives up, leaving Peter and the guys to come up with a second book on their own. The blue material they select repels the audience and the book is dropped.
Blake is voiced by Glenn Howerton.