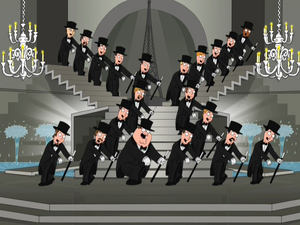 Blazing Saddles is a 1974 satirical Western comedy film directed by Mel Brooks. Starring Cleavon Little and Gene Wilder, it was written by Brooks, Andrew Bergman, Richard Pryor, Norman Steinberg, and Al Uger, and was based on Bergman's story and draft. The movie was nominated for three Academy Awards, and is considered one of the great American comedies.
In "Brian the Bachelor", one of Doug the Pimple's demands, "Where are all the whiteheads at?" This is a reference to Cleavon Little's ploy to goad the Klansmen to leave the line of villains in the film: "Where are all the white women at?"
In "Family Gay", the participants at the straight camp have so overwhelmed the counselors they perform "The French Mistake" from the film.
The scene of King Stewart III and his men riding into town and the song "There Was a Peaceful Town Called Quahog" in "Peter's Progress" parody the movie.