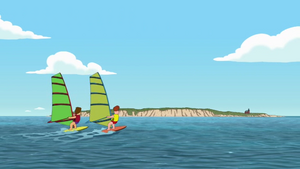 Block Island is part of the U.S. state of Rhode Island. It is located in the Atlantic Ocean about 13 miles south of the coast of Rhode Island, 14 miles east of Montauk Point on Long Island, and is separated from the Rhode Island mainland by Block Island Sound.
When Peter Griffin becomes convinced a restaurant placemat is a treasure map in "Finders Keepers", clues lead him and competing members of Quahog to the Old Block Island Cemetery on Block Island to the grave of Quahog pioneer Miles "Chatterbox" Musket's son, Timmy Musket. Digging up the grave, they discover another clue inside the coffin which leads most of the town to Pawtucket to McCoy Stadium.
When Peter threatens to defecate on Lois' wedding dress in "A Lot Going On Upstairs", she demands he hold it in, noting that he was able to on the ferry to Block Island.