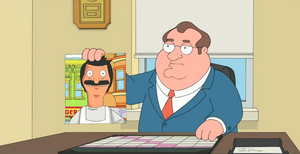 Bob's Burgers is an American animated sitcom created by Loren Bouchard for the FOX Broadcasting Company. The series centers on the Belchers; parents Bob and Linda, and their children Tina, Gene, and Louise Belcher who run a hamburger restaurant.
In "Space Cadet", Principal Shepherd calls a conference with Peter and Lois Griffin when Chris starts getting into trouble at school, including trying to pass off a portrait of Bob Belcher as his advanced art project to Peter and Lois' shame.
While in Italy in "Boopa-Dee Bappa-Dee", Peter attempts to use the guide on the television remote, turning Stewie into a host of FOX animated characters, including Louise Belcher.
In "He's Bla-ack!", Cleveland compares The Cleveland Show ratings to Bob's Burgers ratings.
Bob Belcher makes a cameo appearance in "The Simpsons Guy".