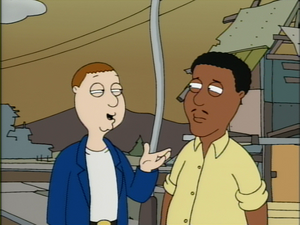 Bob is an African-American resident of New Quahog whose friend tries to explain the definition of irony in "Da Boom" when they are overrun with mutant versions of Stewie Griffin following their destruction of Peter's guns.
Ad blocker interference detected!
Wikia is a free-to-use site that makes money from advertising. We have a modified experience for viewers using ad blockers

Wikia is not accessible if you've made further modifications. Remove the custom ad blocker rule(s) and the page will load as expected.