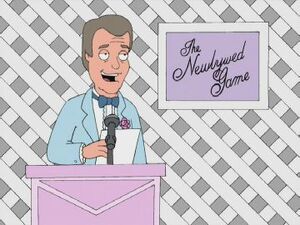 Robert Leland "Bob" Eubanks (born January 8, 1938) is an American radio, game show host and television personality best known for hosting the game show, The Newlywed Game, on and off from 1966 to 2000, where he was known for using the catch-phrase, "Makin' Whoopee".
The Griffins are watching The Newlywed Game at the beginning of "Family Guy Viewer Mail No. 1" segment, "No Bones About It".
Bob Eubanks is voiced by Wally Wingert.
Ad blocker interference detected!
Wikia is a free-to-use site that makes money from advertising. We have a modified experience for viewers using ad blockers

Wikia is not accessible if you've made further modifications. Remove the custom ad blocker rule(s) and the page will load as expected.