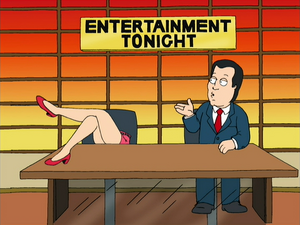 Robert Kuehl "Bob" Goen (born December 1, 1954) is an American game show emcee and television personality, best known for his work on Entertainment Tonight between 1993 and 2004. He hosted GSN Radio, an internet radio game show, with his wife Marianne Curan.
In "There's Something About Paulie", he is seen hosting an episode of Entertainment Tonight with then-co-host Mary Hart, or more specifically, her legs.
Ad blocker interference detected!
Wikia is a free-to-use site that makes money from advertising. We have a modified experience for viewers using ad blockers

Wikia is not accessible if you've made further modifications. Remove the custom ad blocker rule(s) and the page will load as expected.