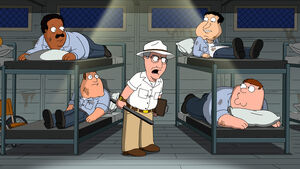 Robert Patrick "Bob" Gunton, Jr. (born November 15, 1945) is an American actor. He is known for playing strict, authoritarian characters, with his best known roles as Warden Samuel Norton in the 1994 prison film The Shawshank Redemption, Chief George Earle in 1993's Demolition Man, and President Juan Perón in the original Broadway production of Evita for which he received a Tony Award nomination.
Bob Gunton provides the voice of the warden in "Cool Hand Peter".
Ad blocker interference detected!
Wikia is a free-to-use site that makes money from advertising. We have a modified experience for viewers using ad blockers

Wikia is not accessible if you've made further modifications. Remove the custom ad blocker rule(s) and the page will load as expected.