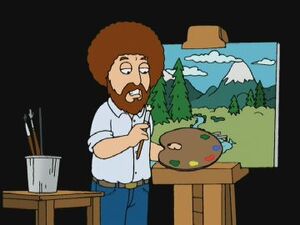 Robert Norman Ross (October 29, 1942 – July 4, 1995) was an American painter, art instructor, and television host. With his calm, patient demeanor, Ross came to prominence as the creator and host of The Joy of Painting, a television program that ran for twelve years on PBS stations in the United States. He parlayed this success into a commercial "Bob Ross" brand: an industry of art books and supplies.
Peter Griffin watched an episode of his show in "Fifteen Minutes of Shame" in which Ross paints a bush that he tells the viewers that it's "our little secret", and threatens to cut anyone that tells someone else that the bush is there. Peter drastically veered off Ross's direction, resulting in a sketch of the Family Ties cast.
Ad blocker interference detected!
Wikia is a free-to-use site that makes money from advertising. We have a modified experience for viewers using ad blockers

Wikia is not accessible if you've made further modifications. Remove the custom ad blocker rule(s) and the page will load as expected.