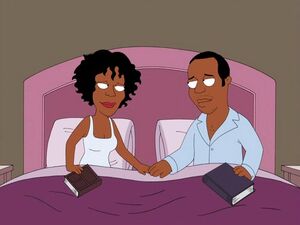 Robert Barisford "Bobby" Brown (born February 5, 1969) is a Grammy Award-winning American R&B singer-songwriter and dancer. After success in pop group New Edition, Brown began his solo career in 1987 and had a string of Top 10 Billboard hits, culminating in a Grammy Award. He was a pioneer of New Jack Swing music, a fusion of hip hop and R&B. His second album, Don't Be Cruel, included popular songs such as "My Prerogative". Brown is the ex-husband of late R&B singer Whitney Houston and starred in the reality show, Being Bobby Brown.
Bobby appears with Whitney Houston in a cutaway in "Brian's Got a Brand New Bag".
Bobby is voiced by Tico Wells.
Ad blocker interference detected!
Wikia is a free-to-use site that makes money from advertising. We have a modified experience for viewers using ad blockers

Wikia is not accessible if you've made further modifications. Remove the custom ad blocker rule(s) and the page will load as expected.