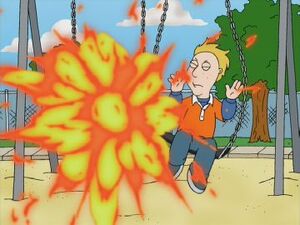 Bobby Williams witnessed the death of his friend in an explosion in "A Picture's Worth a Thousand Bucks" as she was about to become his girlfriend. Unbeknownst to him, an explosive device was accidentally implanted in her by Peter Griffin, who thought the girl was his then-infant son Chris.
Ad blocker interference detected!
Wikia is a free-to-use site that makes money from advertising. We have a modified experience for viewers using ad blockers

Wikia is not accessible if you've made further modifications. Remove the custom ad blocker rule(s) and the page will load as expected.