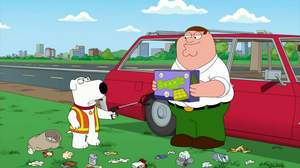 Boggle is a word game played using a plastic grid of lettered dice, in which players attempt to find words in sequences of adjacent letters.
In "Long John Peter", Peter Griffin is shown emerging from the Brown-Simpson home, bloodstained, wearing one glove and carrying a bloodstained knife, just before O.J. arrives and enters, with the apparent intention of playing a game of Boggle.
When Brian confronts Peter for ratting him out for buying him and the guys beer after Mayor Adam West raises the drinking age to fifty in "Underage Peter", Peter accuses him of playing the "blame game," then notes that he would rather play Boggle.