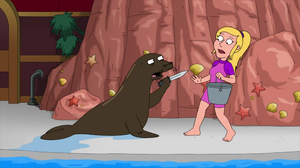 Bojangles is a trained seal at Quahog Oceanland. During a crime spree in "Farmer Guy", Bojangles holds his trainer at knife point, demanding all of the fish be placed into a bucket rather than earn one fish at a time. He also demands she rub his belly like she normally does, telling her that he'll balance a ball on her face.
Ad blocker interference detected!
Wikia is a free-to-use site that makes money from advertising. We have a modified experience for viewers using ad blockers

Wikia is not accessible if you've made further modifications. Remove the custom ad blocker rule(s) and the page will load as expected.