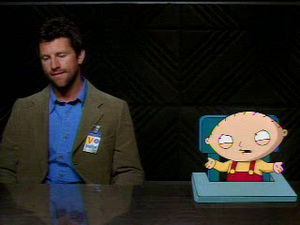 Bones is an American comedy-drama television series that premiered on the FOX Network on September 13, 2005. The show is based on forensic anthropology and forensic archaeology, with each episode focusing on an FBI case file concerning the mystery behind human remains brought by FBI Special Agent Seeley Booth (David Boreanaz) to the forensic anthropologist Dr. Temperance "Bones" Brennan (Emily Deschanel). The rest of the cast includes Michaela Conlin, T. J. Thyne, Eric Millegan, Tamara Taylor, and John Francis Daley.
In the episode "The Critic and the Cabernet", Brennan decides to have a baby and asks Booth to be the father. Booth begins to doubt himself. Stewie Griffin begins to appear in Booth's hallucinations, and veers him towards not going through with it. It is later revealed that the hallucinations are a result of a brain tumor, and the tumor is removed. However, Booth ends up with amnesia after the procedure. Seth MacFarlane reprised his role as Stewie and wrote his dialogue.
The DVD commentary in "Road to the North Pole" reported that the live-action sequences featuring Ron MacFarlane were shot on the set of Bones.