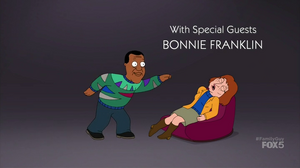 Bonnie Gail Franklin (January 6, 1944 – March 1, 2013) was an American actress, known for her work in the television series One Day at a Time.
In "The Son Also Draws", Brian is watching Nova on PBS when they switch to a marathon of this show.
The family watches The Cosby Show in "Peter's Sister", updated to show the entire cast and guest stars including Bonnie doped up after Bill Cosby's sex scandal became public.
Ad blocker interference detected!
Wikia is a free-to-use site that makes money from advertising. We have a modified experience for viewers using ad blockers

Wikia is not accessible if you've made further modifications. Remove the custom ad blocker rule(s) and the page will load as expected.