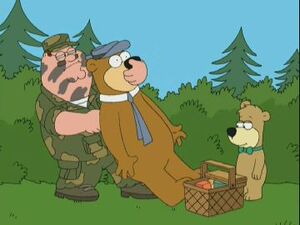 Boo-Boo Bear is a Hanna-Barbera cartoon character on The Yogi Bear Show. He is an anthropomorphic cub in a bow tie, who acts as a sidekick to Yogi Bear. In the 2010 CGI/live-action Yogi Bear film he is voiced by Justin Timberlake.
Both he and Yogi appear in a flashback in the episode "Hell Comes to Quahog", where he witnesses Peter Griffin kill Yogi. Peter then tells Boo-Boo to tell all the other bears about what he has seen.
Ad blocker interference detected!
Wikia is a free-to-use site that makes money from advertising. We have a modified experience for viewers using ad blockers

Wikia is not accessible if you've made further modifications. Remove the custom ad blocker rule(s) and the page will load as expected.