The title is parody of the phrase "Rookie of the Year."
While singing about the portion size during "At Frank Sinatra's Restaurant (Jr.)", Frank imitates Marlon Brando's Vito Corleone from The Godfather. The "horse's head" mentioned is a reference to a scene in which a severed horse's head is placed in the bed of a film producer that refuses to deal with Vito.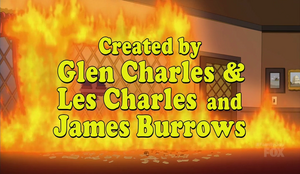 Frank mentioned that Nancy gets $60 every time someone mentioned "My Way", referring to his sister and father Frank Sinatra's signature song.
Brian and Stewie's turning out the lights on Frank's Restaurant, Jr. is a homage to the final episode of Cheers, in which Same also turned out the lights for the final time in the bar. The title card that follows lists the producers of Cheers.
Ad blocker interference detected!
Wikia is a free-to-use site that makes money from advertising. We have a modified experience for viewers using ad blockers

Wikia is not accessible if you've made further modifications. Remove the custom ad blocker rule(s) and the page will load as expected.