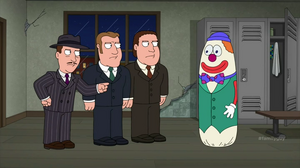 Boppo the Inflatable Punching Clown appears in a cutaway set up in "This Little Piggy" when Stewie tells Brian that he won't back down from a three way with Cassandra, just like Boppo won't back down when threatened. Boppo rolls with the punches from three hoods who are upset that he wouldn't take a dive in a boxing match, but after he pulls out a gun and shoots them repeatedly, takes his own life when cornered by the police.
Ad blocker interference detected!
Wikia is a free-to-use site that makes money from advertising. We have a modified experience for viewers using ad blockers

Wikia is not accessible if you've made further modifications. Remove the custom ad blocker rule(s) and the page will load as expected.