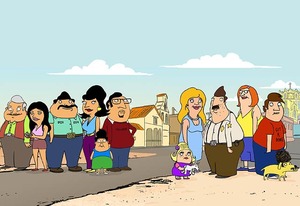 Bordertown is an American adult animated sitcom that aired on FOX from January 3, to May 22, 2016. The series was created by Family Guy writer Mark Hentemann and executive-produced by Seth MacFarlane.
The two main characters are Bud Buckwald and Ernesto Gonzalez and their families. Bud is a border agent while living next door to him is Ernesto Gonzalez, an immigrant happy to be in America.
In the Bordertown episode "American Doll", Peter Griffin arrives at the Buckwald home, but immediately notes he's in the wrong series and departs.