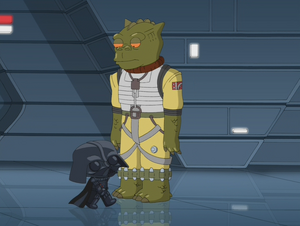 Bossk is a bounty hunter who appeared in Star Wars Episode V: in The Empire Strikes Back.
He attends the bounty hunter gathering in Something, Something, Something, Dark Side. Darth Vader, played by Stewie Griffin, calls him "lizard man" and claims he saw him fight with Captain James T. Kirk, William Shatner's character from Star Trek.
External links
Ad blocker interference detected!
Wikia is a free-to-use site that makes money from advertising. We have a modified experience for viewers using ad blockers

Wikia is not accessible if you've made further modifications. Remove the custom ad blocker rule(s) and the page will load as expected.