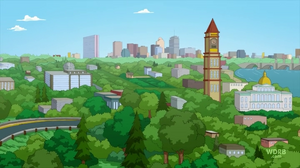 Boston is the capital of the Commonwealth of Massachusetts and its largest city, and is one of the oldest cities in the United States. It was named Boston by early settlers from Boston, Lincolnshire in England. The largest city in New England, Boston is regarded as the unofficial "Capital of New England" for its economic and cultural impact on the entire New England region. The city proper, covering 48.43 square miles (125.43 square km), had an estimated population of 625,087 in 2011 according to the U.S. Census, making it the 21st largest in the country. Boston is also the county seat of Suffolk County and anchor of a substantially larger metropolitan area called Greater Boston, home to 4.5 million people and the tenth-largest metropolitan area in the country. Greater Boston as a commuting region[11] is home to 7.6 million people, making it the fifth-largest Combined Statistical Area in the United States.
Boston and its environs are often featured in Family Guy and in particular its baseball team, the Boston Red Sox.
In "The Giggity Wife", Peter, Quagmire and Joe head to Harvard in nearby Cambridge and then go on a drunken night on the town in Boston, stopping at the Boston Public Library, the New England Aquarium, the Boston Garden and Peter hijacks the U.S.S. Constitution and sails it through the streets of Boston.
Peter and Lois visit Boston after he wins a church raffle for a Red Sox baseball all-star camp at Fenway Park in "Peter's Lost Youth". Lois, while only intending a weekend getaway in the city, is invited to join the team as well. When the family later gathers to cheer on Peter during the team's game in the park, Stewie browses for shops in the city.