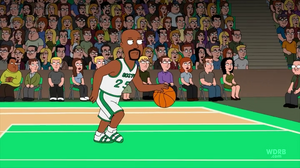 The Boston Celtics are a National Basketball Association (NBA) team based in Boston, Massachusetts. They play in the Atlantic Division of the Eastern Conference. Founded in 1946, the Celtics play their home games at the TD Garden, which they share with the Boston Bruins of the NHL. The Celtics' 17 NBA Championships are the most for any NBA franchise.
During a night in Boston with the guys in "The Giggity Wife", Peter believes they are watching a Celtics game on a low-definition television at a Boston bar. Later, a drunken Peter interrupts a Celtics game at the Boston Garden by blocking a Celtics player's shot.
Ad blocker interference detected!
Wikia is a free-to-use site that makes money from advertising. We have a modified experience for viewers using ad blockers

Wikia is not accessible if you've made further modifications. Remove the custom ad blocker rule(s) and the page will load as expected.