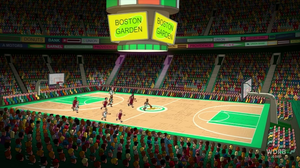 The Boston Garden was an arena in Boston, Massachusetts, USA. Designed by boxing promoter Tex Rickard, who also built the third iteration of New York's Madison Square Garden, it opened on November 17, 1928 as "Boston Madison Square Garden", later shortened to just "Boston Garden" and outlived its original namesake by some 30 years. The Boston Garden was demolished in 1998, a few years after the completion of its new successor arena, the FleetCenter, which is now known as TD Garden.
During a drunken night in Boston with the guys in "The Giggity Wife", Peter interrupts a Boston Celtics game at the Boston Garden by blocking a Celtics player's shot.
Ad blocker interference detected!
Wikia is a free-to-use site that makes money from advertising. We have a modified experience for viewers using ad blockers

Wikia is not accessible if you've made further modifications. Remove the custom ad blocker rule(s) and the page will load as expected.