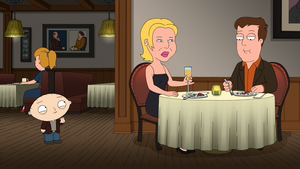 Bradley Charles Cooper (born January 5, 1975) is an American actor. He is known for his roles in the films The Hangover, The A-Team, Wedding Crashers, and Limitless.
In "Brian Writes a Bestseller", Brian and Stewie bump into Bradley and Renée Zellweger on a date where she tries to pitch her boyfriend Bradley against some very specific demands by Brian for a film project, wanting someone nearly a celebrity but not quite.
Ad blocker interference detected!
Wikia is a free-to-use site that makes money from advertising. We have a modified experience for viewers using ad blockers

Wikia is not accessible if you've made further modifications. Remove the custom ad blocker rule(s) and the page will load as expected.