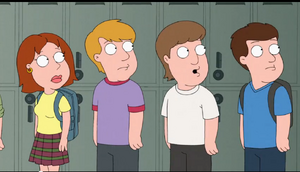 Brandon is a student at James Woods Regional High School. When Michael Pulaski walks into school in "A Fistful of Meg", Brandon notes that he looks mean, drawing criticism from another student for being judgmental.
Brandon is voiced by Seth Green.
Ad blocker interference detected!
Wikia is a free-to-use site that makes money from advertising. We have a modified experience for viewers using ad blockers

Wikia is not accessible if you've made further modifications. Remove the custom ad blocker rule(s) and the page will load as expected.