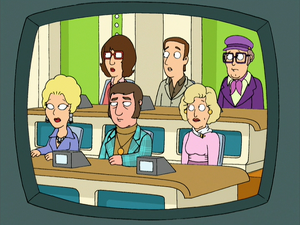 Brett Somers (July 11, 1924 – September 15, 2007) was a Canadian-born American actress, singer, and comedienne. She was best known as a panelist on the 1973-82 era of The Match Game and her role as Blanche Madison opposite real-life husband Jack Klugman on The Odd Couple.
Brett appears as a Match Game panelist in "Mr. Saturday Knight". Dan Palladino notes that they made a mistake in her placement, shifting her to the side from her traditional top-center seat.
Ad blocker interference detected!
Wikia is a free-to-use site that makes money from advertising. We have a modified experience for viewers using ad blockers

Wikia is not accessible if you've made further modifications. Remove the custom ad blocker rule(s) and the page will load as expected.