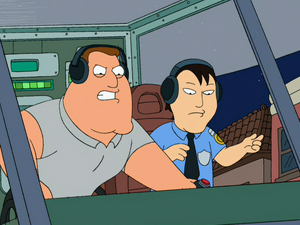 Brian Keith Tochihara (born May 2, 1963), better known as Brian Tochi, is an American actor, screenwriter, film director and producer known for his work in the Revenge of the Nerds film franchise, the Police Academy film series, and as the voice of Leonardo in the first three live-action Teenage Mutant Ninja Turtles films.
Brian provides the voice of the helicopter pilot in "Breaking Out is Hard to Do".
Ad blocker interference detected!
Wikia is a free-to-use site that makes money from advertising. We have a modified experience for viewers using ad blockers

Wikia is not accessible if you've made further modifications. Remove the custom ad blocker rule(s) and the page will load as expected.