When the Griffin family is dining at "The Chicken Coop", a neon sign under the main sign depicts a pair of hands choking a chicken. This is a visual pun since "Choke your Chicken" is slang for masturbation.
Brian sells smoked meat logs at a Hickory Farms outlet.
Quahog still has a vintage malt shop.
A cutaway shows Peter attending the funeral of JonBenét Ramsey and strongly implies that the Ramsey parents are guilty of her murder.
The song during the laser show is "One" by the band Three Dog Night.
When Peter imagines the baby birds as his children, the third bird wears a purple version of Boba Fett's helmet from Star Wars.
Peter watches The Life and Times of Grizzly Adams, a late 70s show about a fugitive mountain man and his bear, Ben. In Peter's version, Adams and Ben are lovers.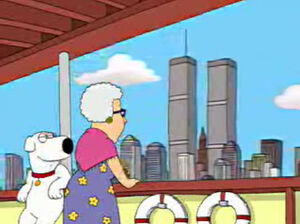 On some airings of this episode after 9/11, the shot of the World Trade Center towers were digitally erased, and the part of the song where Brian sings about how nobody knows how the world will end replaces a shot of a tarot card depicting a drunken George W. Bush with a beer bong with one featuring Jerry Springer on the set of his talk show. The uncensored versions of this episode have the Twin Towers and the Bush tarot card shots intact. It was also seen in the musical segment of "Brian & Stewie" with both the World Trade Center and the drunken George W. Bush tarot card intact.
This episode contains the Emmy Award-winning song "You've Got a Lot to See." The song won the award for Outstanding Music and Lyrics at the 2002 Emmy Awards. Music was composed by Walter Murphy, lyrics by Seth MacFarlane [1].
On the episode's DVD commentary, Alex Borstein identifies it as the only episode of the series to contain "genuine human emotion."
On the episode's DVD box (Region 1) and on the DVD menu, the episode title is written as "Brian Wallows and Peter Swallows".