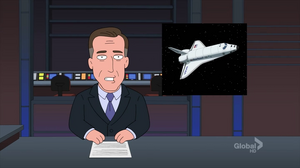 Brian Douglas Williams (born May 5, 1959) was the anchor and managing editor of NBC Nightly News, the evening news program of the NBC television network. Williams was listed among Time Magazine's 100 Most Influential People in the World in 2007.
Brian appears as himself in "Space Cadet" as he presents the story of the Griffins accidental launch into space.
Ad blocker interference detected!
Wikia is a free-to-use site that makes money from advertising. We have a modified experience for viewers using ad blockers

Wikia is not accessible if you've made further modifications. Remove the custom ad blocker rule(s) and the page will load as expected.