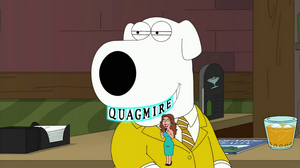 When Brian selects Quagmire to be his "sucker," a model arrives and turns his teeth in the style of Wheel of Fortune.
Stewie's game with Rupert is an allusion to the film The Silence of the Lambs.
The family watches the film My Dinner With André the Giant on television. This is a parody of My Dinner with André.
Ad blocker interference detected!
Wikia is a free-to-use site that makes money from advertising. We have a modified experience for viewers using ad blockers

Wikia is not accessible if you've made further modifications. Remove the custom ad blocker rule(s) and the page will load as expected.