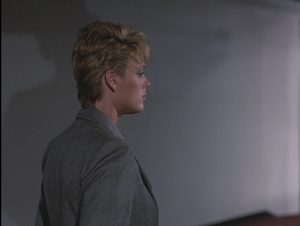 Brigitte Nielsen (born 15 July 1963) is a Danish actress, musician and television personality, who began her career with appearances in the 1985 films Red Sonja and Rocky IV and for her marriage to Sylvester Stallone. She subsequently appeared with him in the 1986 film Cobra, and was noted for her widely publicized breakup with Stallone in 1987, and her relationship with New York Jets Mark Gastineau in 1988.
She appears in live-action as Ludmilla Vobet Drago, wife of Ivan Drago from his training footage from Rocky IV, played simultaneously with the Jedi training of Luke Skywalker, played by Chris Griffin in Something, Something, Something, Dark Side.
Peter compares himself to Nielson in "Saturated Fat Guy" during an incident in 2012 when she stumbled around a Los Angeles park while intoxicated.