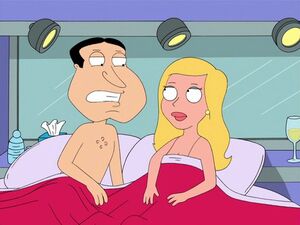 Brittany Anne Snow (born March 9, 1986) is an American television and film actress. She is known for her roles in American Dreams, Guiding Light, Hairspray, and in Pitch Perfect.
She voices Candy, Glenn Quagmire's one night stand in "Quagmire's Baby".
Ad blocker interference detected!
Wikia is a free-to-use site that makes money from advertising. We have a modified experience for viewers using ad blockers

Wikia is not accessible if you've made further modifications. Remove the custom ad blocker rule(s) and the page will load as expected.