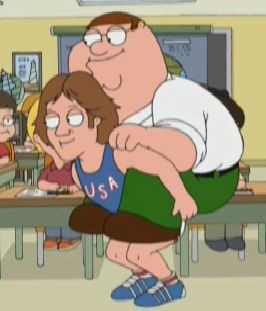 Caitlyn Jenner (born William Bruce Jenner, October 28, 1949), formerly known as Bruce Jenner, is a former U.S. track and field athlete, motivational speaker, socialite, and television personality, known principally for winning the gold medal for decathlon in the Montreal 1976 Summer Olympics. Following a divorce in 2015, Jenner came out in a television interview as a trans woman, and later assumed the new name of Caitlyn.
He provided his own voice in "Tales of a Third Grade Nothing" when his younger self carried Peter Griffin out of the third grade classroom.
Stewie insists that Bruce is Brody Jenner's mother, although biologically, he is his father, in "We Love You, Conrad".
He followes Peter's comedy act in entertaining the USO in "Lottery Fever".
Bruce appears in "Grimm Job" as the "evil step-sisters" step-dad.
When Stewie sends a tweet in "Chris Has Got a Date, Date, Date, Date, Date" that pans a show, he and Brian end up in a prison cell with another guy who failed to be impressed by Caitlyn's new persona.
Bruce is honored by Peter as a real man/athlete who appears on a 1970s box of Wheaties in ""Family Guy" Through the Years".
Bruce is voiced by Seth MacFarlane.